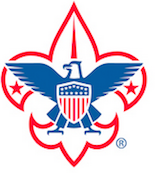 The Boy Scouts meet Tuesday evenings from 6:30-8:00 p.m. in the gym and Fellowship Room at St. John Lutheran Church. All Boys are welcome!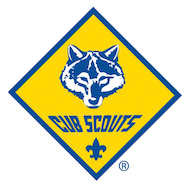 All boys of St. John in grades K-5 are welcome to join the Cub Scout program. Pack 75 participates in all areas of scouting: character development, citizenship, fitness and our relationship with God in the church award programs. Scouting emphasizes that "doing your best" and improving and growing from your efforts is the goal.
December 2019
A Cub Pack Christmas celebration will be held this month with a variety of fun activities and games. Included will be a cookie exchange. With one of the points of the Scout Law being that a Scout in reverent, a number of the boys are working on their religious award which will be presented on Scout Sunday in February. Cubs will also continue working on engaging achievements, specific to each Den.
Service to others is an important part of scouting and therefore, Cubs collected 1399 donated food items and a $10.00 donation at the Crescent-News Recipe Challenge in November. These items and donation helped resupply the St. John Food Pantry.
The Troop is currently exploring options for winter activities. Tobogganing at Pokagon State Park and/or skiing and snowboarding at Mad River Mountain are currently being discussed.
Its annual Polar Bear, an overnight camping experience during the winter months, is also being planned.
Together, the Pack and Troop are completing construction of a mounting platform for the Ohio Horseman's Association that will be used on the Rails to Trails route in Williams County. This service project will allow youth and those less mobile to mount and ride horses along the trail.
The Boy Scout Troop has for many years recycled newspapers as a conservation project. Anyone wishing to recycle newspapers can place them in the garage on the east side of the south parking lot. Money made from their sale is used to help pay for Scouts to attend summer camp.
Youth and adults are always welcome to attend pack and troop events to learn more about the program. Questions at any time can be addressed to Mike Saxton, Chartered Organization Representative, at 419-439-2079.