History of St. John Lutheran Church & Christian Day School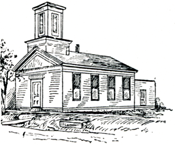 Lutheran services were held in Defiance as early as 1845 by the Rev. A. F. Knape. Very little is known about Rev. Knape but that he continued to preach here and in the surrounding territory until 1850.
Rev. Adam Detzer, Sr., who had been doing mission work in William and Fulton counties, came to Defiance and preached hi
s first sermon here in the old public school building near the present Wabash depot on February 9, 1851. At that time Rev. Detzer conducted services at fourteen different places, traveling on horseback over rough trails, fording streams, and at times being forced to return to his home because the rivers and creeks were so swollen that he could not force his horse across them.

Many of the members came great distances, usually walking, riding on horseback, or on ox-carts to attend services. On May 8, 1851 Rev. Detzer held the first Communion service in Defiance. Twenty-nine persons communed and the service lasted from 9:00 to 2:00 P.M. This was because there was only one hymnal. The pastor would recite one line of the hymn or verse and then the congregation would sing what had been recited.
On May 28, 1851 the congregation sent a formal call to Rev. Detzer. He accepted the call and was installed as the first pastor of the congregation on August 2, 1851 by the Rev. Ph. Trautman. He continued to make his home in Fulton County until June of 1852 when he moved to Defiance.
Three weeks after Rev. Detzer's Installation, the members met to elect church officers. A Mr. Stark was chosen elder; Mr Warnecke, president. The following were elected trustees: Kussmaul; Viback; Grass; Frank; and Kahlo. Other names on the church roll were: Keinbaum; Dolke; Flickinger; Bodenschatz; Dannenberg; Hess; Grull; Biede, Kreideweiss, Konig, Fritcher, Muller; Schultz; Maers; Andrew, Will and Conrad Martin; Kutzli; Goshner; Mohoning; Ludwig Kramer, Groweg, and Biederstadt.
In March 1852 the congregation bought a lot on Washington Avenue. The purchase price was $65.00, of which $20.00 was paid in cash and the remaining $45.00 was borrowed at 16 per cent interest. The following year a building was begun. The first service was held in the new, but yet unfurnished building on April 14, 1853. Rough planks provided seats for the women while the men stood during the long service. On July 9, 1854 the church was dedicated by Prof. Craemer of Fort Wayne. This building is still used today as the present Church of the Brethren. Two years later a parsonage was built next to the church.
On May 12, 1856 the congregation adopted a constitution and became incorporated under the laws of the State of Ohio. The name adopted for the congregation was: St. John Ev. Lutheran Church of Defiance, Ohio. About this time the congregation also became a member of the Lutheran Church-Missouri Synod.
In 1867 the congregation bought four lots at the corner of Wayne Avenue and Juliet Street. The price was $800.00. Our present church and school, are located on these lots. The first parochial school building of the congregation was erected on these lots in 1870 at a cost of $1150.00.
Rev. Detzer remained as pastor until 1872. In 1871 the Rev. W.J. Lange became Pastor Detzer's assistant. In 1872 Rev. Detzer moved to Chicago. Rev. Lange was then called as pastor, but did not accept the call. Prof. Lange of Fort Wayne was then called. He accepted the call, but only remained three months.
In 1873 the Rev. G. M. Zucker was called. He accepted the call and remained as pastor of the congregation until 1896.

In the meantime the congregation prospered. The old church building became too small, and in January of 1881 the congregation decided to build a new church on the Wayne Avenue lots. Subscriptions amounting to $7737.00 were pledged by the members. Bids for the new building were received. When these were opened, the lowest was for $12,000.00. The congregation did not deem it wise to go into debt to such and extent, and so deferred building until 1883. The contract for the new church was then awarded to J.S. Demann for $12,000.00. The new church, our present house of worship, was dedicated to the glory of God on September 21, 1884. The property on Washington Avenue was sold.
In 1889 an addition was built to the school. A water power motor was installed in the church for the organ in 1893. That same year the Ladies Aid Society paid for the decoration of the interior of the church.
In 1896, after having served the congregation faithfully for 23 years, Pastor Zucker resigned and moved to Michigan.

The congregation then called Rev. Karl Spannuth of West Hammond, Illinois. He was installed as pastor on the 25th Sunday after Trinity, 1896 by Pastor H. Diemer. During the pastorate of Rev. Spannuth English services were held for the first time in the history of our congregation. He also organized a Young People's Society and later on the Society joined the Walther League at its convention held in Detroit, Michigan in 1897.
After Pastor Spannuth had terminated his ministry, the Rev. F. A. Kiess of Wapakoneta, Ohio was called to St. John's and was installed on the Seventh Sunday after Trinity, 1904. After almost twenty years of faithful service, Pastor Kiess accepted a call to Reynolds, Indiana.

He was succeeded by Pastor Albert Dede of Cleveland, who was installed into office the Fifth Sunday after Trinity by Pastor C.H. Schroeder. Under his leadership our present modern school building was erected at a cost of about $32,000.00. It was finished and dedicated in 1926. Shortly before Christmas, 1927, Pastor Dede was called to a professorship at Concordia College, Milwaukee, Wisconsin.
A call was then extended to Pastor O. G. Hebestreit of the Fulton County parish. He accepted the call and was inducted into office on the first Sunday in March 1928.

During the ministry of Pastor Hebestreit the school debt of $28,000.00 was liquidated through the generous gifts of the members and the faithful help of the Ladies Aid Society. In 1941 new windows, lights, and carpet replaced the old. The church was also redecorated. Chimes were placed into the organ. In 1950 a new three-manual Haygren electronic organ was purchased and installed. The spring of 1951 the interior of the church was again redecorated. Rev. O.G. Hebestreit served 30 years at St. John retiring in 1958.
The Rev. A. R. Gallert was called as the next pastor of the congregation, and he was installed on Sunday, April 27, 1958. During his ministry additional property was purchased on Wayne Avenue and preparations and plans were made for construction of the new Christian Education Center as an addition to the school. The Sunday broadcast of our worship service was started in July, 1958, and has continued to the present. In 1959 Mr. Elmer Bunsold was installed as teaching principal of the school and Youth Counselor of the congregation. Pastor Gallert accepted a call to Amelith, Michigan in January of 1963.
In 1963 the constitution was amended, and the name changed to St. John Evangelical Lutheran Church of the Unaltered Augsburg Confession, Defiance, Ohio.

On Sunday, June 23, 1963, the Rev. David R. Koenig was installed as the pastor of St. John Congregation.
Ground was broken for the new Education Center on March 8, 1964, and this structure was dedicated to God's glory on March 28,1965. Cost of the building program, including some remodeling in the old school, a new heating system for the church, and a connecting passage between the church, and the school, was approximately $395,000.00. The new Education Center included a gymnasium for expanded athletic programs, four new classrooms upstairs and one classroom, offices, lunchroom and large kitchen on the first floor.
Pastor David R. Koenig retired on September 20, 1992 after serving the Lord and the people of St. John for over 29 years.
From 1952 until 1974 the pastors were assisted by vicars, or theological interns. Each vicar assisted in the pastoral ministry for several months or one year as part of his theological training. Vicars serving St. John were as follows: Wayne Dittloff, summer of 1952; Hyron Vogt, summer of 1954; Richard Baepler, summer of 1955. We had no vicars in 1953,1956,1957 and 1958.
In the fall of 1959 Robert Strawn was assigned to St. John for a year (until the fall of 1960). Thereafter, St John was assisted each year by vicars: Ronald Bongard, 1960-61; Melvin Swan, 1961-62; Lester Stahlke, 1962-63; Brian Seiler, 1963-64; Gary Arp, 1964-65; Robert Bohlmann, 1965-66; John Drush, 1966-67; Robert Zimmermann, 1967-68; Daniel Conrad, 1970-71; Gaylen Burow, 1971-72; Dennis Aubey, 1972-73; and Dennis Rieken, 1973-74.

In 1974 the congregation decided to call a second pastor, and the Rev. Howard Fabricius was installed as an associate pastor on January 19, 1975. Pastor Fabricius served St. John for four years.
Pastor Howard Fabricius retired from the ministry at Concordia Lutheran Church, Greenwood, after serving the congregation since September 17, 1978. Sunday, June 8, 2003 marked his farewell sermon to the congregation.
Pastor Fabricius received his elementary education at St. Paul's Christian School in Ottawa, Ontario, Canada. He then attended Concordia High School and College in Edmonton, Alberta, graduating in 1961 and Concordia Seminary, Springfield, Illinois, graduating in 1965. During his year of vicarage, 1963-64, Pastor Howard served churches at Syracuse and Messena, New York.
In 1964 he married Beverly Fouts from Cortland, New York. Pastor Howard and Bev have five daughters—Mrs. John Comastri (Karin), Mrs. Martin McGuire (Susan), Mrs. Frank Springman (Nancy), Mrs. Michael Kalan (Wendy) and Mrs. Lance Miner (Sarah). They have nine grandchildren.
Pastor Fabricius was ordained July 25, 1965 at St. Paul's Lutheran Church in Ottawa, Ontario, Canada, his home congregation. He served four different churches before coming to Concordia. He pastored at Redeemer Lutheran in Langdon, North Dakota and also at Zion Lutheran in Munich, North Dakota for three years. He then served at Mount Olive Lutheran (now Faith Lutheran) in London, Ontario, Canada for six years before moving to St. John's Lutheran Church in Defiance, Ohio where he served for four years.
As our nation celebrated its 200th birthday in 1976, St. John Lutheran Church celebrated its 125th anniversary. At that time the congregation numbers approximately 1400 communicant members, and slightly over 2,000 baptized members.

August 19th, 1979, St.John installed Rev. Todd J. Brunworth as an Associate Pastor. Rev. Brunworth currently serving Trinity Lutheran Church in Gaylord, MI.
The church was redecorated by Potente Studies of Wisconsin. The walls were painted a soft gold foil outlining the features of the windows and nave. The ceiling beams were painted dark brown and the ceiling is white. Red carpet was laid, new pews made by Sauders were installed with padded seats, and a Communion railing was installed on the expanded entrance to the nave. A hand carved dove was hung above the baptismal font, the pulpit was lowered and the furniture and other appointments were painted pure white. Wainscoting was removed from the side walls of the church.
The statue of Jesus was cleaned and retouched by Potente Studios, then reset in the altar alcove. The altar remains white with gold leaf touches to bring out the details on the tall altar.
In May of 1982 a new pipe organ was installed in the balcony of the church, Built by Zimmer and Sons of Charlotte, NC, the organ is a tracker mechanical action organ with a total of 982 pipes plus a set of Deagan Patrician chimes. There are 21 ranks of pipes, with 17 stops. A dedication service was held on June 12, 1982 with two recitals at later dates.
Rev. Donald L. Luhring was installed as Associate Pastor of St. John on June 12, 1983. He came to Defiance from Our Savior Lutheran Church in Monticello, IN. He accepted the call as Senior Pastor in 1992.
It was in 1984 that an elevate was added to assist the handicap. April 23, 1989 ground was broken for a third addition to our Educational Center. This building included a basement, sectioned into rooms for the youth, Boy Scouts and future projects. The first floor of the new addition has offices for the pastors, secretaries, a large fellowship room with small kitchen facilities and two more multi-purpose rooms and a reception area with doors opening to the south parking lot. The architects are Pastor & Beilharz. The cost is $1.3 million. November 12, 1989 the corner stone was laid and September 9, 1990 the building was dedicated to the Glory of God.
Rev. Salminen accepted a call to become a second Associate Pastor of St. John Lutheran Church, Defiance, OH and was installed on July 13, 1986. He accepted a position at Holy Cross Lutheran Church in Collinsville, IL in 1989.

After Pastor Koenig's retirement in 1992. Pastor Steven C. Sell was installed as an Associate Pastor on May 9, 1993. His special areas of ministries were the youth and evangelism. He accepted a call to Columbus, OH in 1994.
Currently, St. John Lutheran Church, Defiance, Ohio has one pastor, Pastor Luhring. St. John is in the process of calling an Associate Pastor.
Rev. Donald L. Luhring and his wife Faye have completed 25 years of ministry at St. John Lutheran Church in Defiance, Ohio. After serving as pastor at The Lutheran Church of Our Savior in Monticello, Indiana for 14 years, (and one year in Richmond, Virginia while doing graduate study) Rev. Luhring has completed 39 years in pastoral ministry. Pastor Donald Luhring retired as of December 31, 2020.
God has richly blessed St. John Lutheran Church and Christian Day School.
Pastor Joshua Schmidt is a 2010 graduate of Concordia Seminary, St. Louis. He and his wife, Kristin, have been married since July 2008. St. John is his first call and congregation. Associate Pastor Joshua Schmidt will be installed at St. John in July 2010. Pastor Schmidt and his family accepted a call in Jackson, MO and left St. John in July 2015.
Pastor Matthew P. Schiemann accepted his first call to St. John Lutheran Church and was installed on Sunday, August 7, 2016. Pastor Matt is the son of Rev. Arthur and Carol Schiemann. He is the youngest of five children-three sisters, Jennifer, Tamela and Rachel and one brother Andrew. Pastor Matt and Mary Rose were married on June 4th at Ascension Lutheran Church, Wichita, KS. Pastor Schiemann and his wife Mary Rose moved to Montana to serve at First Lutheran Church in Bozeman.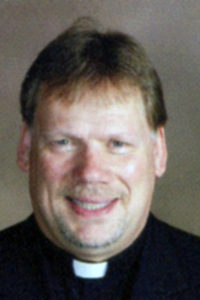 Pastor Kurt Mews was installed as an associate pastor at St. John in March of 2019. He was serving
in East Peoria, Illinois at St. Peter's Lutheran Church. We welcome Pastor Mews and his family to St. John. Pastor Kurt Mews is our Senior Pastor as of November 8, 2020.
St. John Lutheran participated in the Vicar program from LCMS and was blessed to have eight Vicars
from 1983 until 1991.
Vicars that served St. John Lutheran Church, Defiance
1983-84        Don Neuendorf (Karen)              
1984-85        Bryan Salminen
1985-86        David Johnson
1986-87        Paul McCain (Lynn)
1987-88        Gregg Bowen (Kathy)
1988-89        Henry Gerike
1989-90        John Baumgartner (Marla)
1990-91        Richard Habrecht (Christine)