"Your word is a lamp for my feet, a light on my path." Psalm 119: 105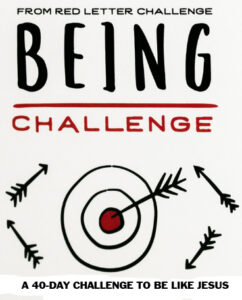 Being Challenge is a 40-day journey that will help you grow in your relationship with God. Many are wanting to become greater followers of Jesus, but it all starts with being in relationship with God. How do we grow in our relationship with God? The best way to grow in our relationship with God is to learn from the only one Jesus who was in perfect relationship with Him. As we look at the life of Jesus we recognize habits in His life that we too can practice. Being Challenge will introduce and challenge you to practice the five keystone habits of Jesus. Are you ready?
Pastor Mews' Sunday sermons will follow these themes.
Feb. 14,
Week 1: Introduction to "Be" with God and to look to Jesus to help us form habits.
Feb. 21, Week 2: Focus on first keystone habit: Committing to Community.
Feb. 28, Week 3: Focus on the second keystone habit: Studying Scripture.
Mar. 7, Week 4: Focus on the third keystone habit: Prioritizing Prayer.
Mar. 14, Week 5: Focus on fourth keystone habit: Seeking Solitude.
Mar. 21, Week 6: Focus on fifth keystone habit: Choosing Church.
There are 11 Being Challenge groups formed to start this Bible Study. Over 80 people are participating in this Bible Study.
____________________________________________________________________
Join one of the Bible Classes or lead one of your own. There are many opportunities to grow in your faith at St. John.
BIBLE STUDIES
Monday Adult A Room
6:30 – 8:30 p.m. "Life with God".
Tuesday Fellowship Room
10:00 a.m. – Tuesday @10 Bible Study in Adult A Room
2:00 – 3:00 p.m.
3:15 – 4:15 p.m. Zoom meeting,
Wednesday
9:00 – 11:00 a.m. Moms in Touch, Faye Luhring
(every other Wednesday)
2:00 – 3:00 p.m. Fellowship Room
6:30 p.m. – Penny's Bible Study in the Lunchroom
6:30 – 8:00 p.m. – Cross Training
Thursday
10:00-11:30 a.m. Fellowship Room, "Genesis Bible Study"
Knit and Study-Second and fourth Thursday at noon
until 2:00p.m.
Friday –
6:30 – 7:30 a.m. Adult A Room, Iron Men Bible Study
Sunday
9:30 – 10:30 a.m.
Cassidy Holeso, DCE, Intern, Youth Room, Youth Bible Study
Phil Rohlf, Lunchroom A, "Acts"
Faye Luhring, Lunchroom B, Bible Study
Jeff Rohlf, Fellowship Room B
Sandy Gyurnek, Fellowship Room A, Bible Study