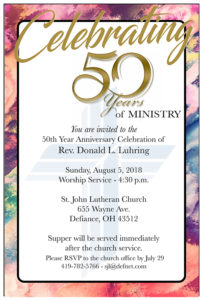 Pastor Luhring is celebrating his 50 years in ministry on Sunday, August 5th at 4:30 p.m. We will be having a worship service and a supper after the service. Please email the church office if you would like to help in planning this event or would like to attend that day. email: sjl@defnet.com
HOLY COMMUNION will be celebrated this weekend in services in the Church with individual cups.
Here at St. John Lutheran Church, we believe, teach and confess that the bread and wine we eat and drink at Holy Communion is the true body and blood of our Lord Jesus. Jesus is truly present in this meal giving us the benefits He won for us on the cross: forgiveness of sins, life and salvation. Holy Communion is also a meal that expresses unity in faith and belief among those who partake in it. Because of this, and because those who eat and drink unworthily do so to their great harm, we ask those of you with us who are guests and visitors to this church to please speak to one of the pastors or elders before communing. Please leave the grape juice for those with special medical needs and have spoken to pastors. Thank you and may God bless you in worship today!
ALTAR FLOWERS this weekend are in memory of Tina Mast & Eileen Rohlf. Given by Phil Rohlf & family.
ALTAR FLOWERS – If you would like flowers placed on the altar, please contact the church office. Dates available for October are: Oct 7, 14, & 21 also Nov 18. The cost is $18.00 per Sunday. Checks should be written to Kirchers Flowers and returned to the church office.
SUMMER CHILD CARE – If you are in need of summer childcare please contact the Tigers' Den. They are available 6:00 a.m. – 6:00 p.m. Monday through Friday. Call 419-782-1751 for additional information or check out the Tigers Den at stjohntigers.com
SCHOOL OFFICE SUMMER HOURS – The school office will be open from 9 – 1 p.m. Monday – Friday. Call the office at 419-782-1751 if you need to arrange a different time. Thank you. Mrs. Kosmerchock.
SCHOOL SPIRIT FUNDRAISER – The school will be participating in School Spirit by Aunt Millie's Bakeries. So start saving the UPC from their products. The products include Aunt Millies bread (all types), hamburger and hotdog buns (All types), and all donuts and snack cakes. The school will receive $0.05 per UPC code. Help us raise money for the school. Thank you.
STEPHEN MINISTRY – In the face of difficulties, perseverance is the key to getting beyond them. But to struggle on by oneself takes more than simply perseverance, it takes the help of another. That help is what a Stephen Minister offers; someone to share the burdens and lean on when the going gets tough. Please call the church office at 419-782-5766 or see one of our Stephen Leaders: Penny Mueller, Kristina Phipps, Pastor Luhring
JULY CALENDARS – Will be available in the church entrance.
50 YEARS OF MINISTRY CELEBRATION – Pastor and Faye will be celebrating 50 years in ministry this year. We are planning a worship service and meal on Sunday, August 5 at 4:30 p.m. A slide show will be shown with many pictures of his family and past events here at St. John. If you have a picture that you would like to share, please send it to sjl@defnet.com, or you may drop it off at the church office. The picture will be returned to you. Also, if you have a story about Pastor Luhring, please share your memory as well.
If you are planning on attending the meal please RSVP to the church office by July 22, at 419-782-5766 or email at sjl@defnet.com. We are providing an "Anniversary Celebration" envelope if you would like to give a monetary gift to Pastor and Faye. Please make checks out to Pastor Luhring and give to the church office. Envelopes will be presented to Pastor on August 5.
THANK YOU – Thank you to the Elders in assisting with leading the congregation in worship.
TELECARE CONNECTING – The TeleCare is a program of St. John Lutheran Church, Defiance. Every month, TeleCare volunteers phone congregation members.
Volunteer teams spend two hours the first Monday of every month from 6:30 to 8:30 p.m. at the church, making calls and then praying together for each person contacted, naming each joy and concern. It helps keep St. John congregants connected, and people appreciate the call, often saying it came just when they needed it.
TeleCare callers want everyone to know there is always someone available who cares about them and wants to offer encouragement in a spirit of unity. Contact the church office if you are interested in making calls once a month or if you are needing a call from your TeleCare minister.
CHAIR LIFT TO THE BALCONY – As we are getting older the stairs are more of a challenge for the senior choir to get to the balcony. We have a quote of $4,800 to install the lift in the back way entrance to the balcony. If you would like to contribute to this unbudgeted expense, please mark your envelope "Chair Lift". Thank you for your support. Our current balance left is $1,430 to fulfill our quote.
FOOD PANTRY TOTALS FOR JUNE
78 families served; 274 people served
424 bags of food given
Approximately $4,240 worth of food given.