Our prayer is that you will be blessed and strengthened by the power of Jesus, and that you will live a life of abundance in fellowship, joy and liberty. St. John Lutheran Church is here for you. It is not just a church; it is a fellowship of believers coming together to declare the glory of the Lord, and to celebrate Jesus as King. We study the Word, practice what we learn, and in the process grow together. May God richly bless you! May the Lord bless you and keep you! We hope to see you soon!
A Retirement Celebration Honoring Pastor Luhring!
The weekend of November 28 & 29, 2020 at all services we will be honoring Pastor Donald Luhring. Pastor Luhring has been the pastor at St. John Lutheran Church, Defiance, Ohio for 37 years. If you would like to send me a card, please send to the church at 655 Wayne Avenue, Defiance, Ohio 43512/Attention Pastor Luhring. Details of the event will be forthcoming.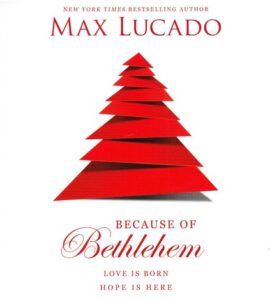 BECAUSE OF BETHLEHEM (BOM)is a new 4 week Advent Small Group Bible Study from Max Lucado. Max's work included the popular and faithful, "He Chose the nails," small group study. Participants in an engaging, yet meaningful manner explore the meaning of hope, belonging, joy and growth during our anticipation of The Birth of the Christ Child.
SIGN UP for Because of Bethlehem will take place beginning on Sunday, November 1 in the lower hallway. Sign up information will be on Realm as well.
Missed a Sermon? Sermons are archived on YouTube and can found on this link.
Thank you for your continued support of St. John Ministries