Our prayer is that you will be blessed and strengthened by the power of Jesus, and that you will live a life of abundance in fellowship, joy and liberty. St. John Lutheran Church is here for you. It is not just a church; it is a fellowship of believers coming together to decl
are the glory of the Lord, and to celebrate Jesus as King. We study the Word, practice what we learn, and in the process grow together. May God richly bless you! May the Lord bless you and keep you! We hope to see you soon!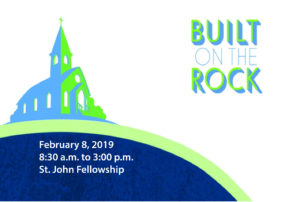 BUILT ON THE ROCK SEMINAR
Saturday, February 8, 2020 – 8:30 a.m. – 3:00 p.m.
"Built on the Rock": The Healthy Congregation" is presented by Ted Korber, renowned author and leader who has years of experience in church consultation. Real life stories from actual case work inspires and encourages. In Built on the Rock, Ted Korber, an expert in Christ-centered reconciliation, offers church leaders and members an effective prescription for building and sustaining healthy congregations. The ideas are not just great theory, but practical and fruit bearing. The workshop is presented in 5 one-hour sessions. ALL ARE WELCOME! Sign-up TODAY on the sign-up poster in the south lobby or fill out registration sheet in the bulletin by Sunday, February 2, 2020.
Starting with the first weekend in January the
Saturday night service will be starting at 5:30 p.m.