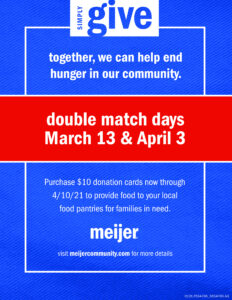 Meijer Fact Sheet – Simply Give Winter 2021
In Meijer continued deep-rooted hunger relief efforts, they launched an additional fourth campaign in 2021 to help feed hungry families.
The Simply Give Campaign will run a total of eight weeks from the dates of Sunday, February 14, 2021, through Saturday, April 10, 2021.
Your partnering Meijer store for this campaign will be the following location:
189 – DEFIANCE
137 Elliott Rd.
Defiance, OH 43512-8626
Pick up a $10 Simply Give donation cards from the church office or at the Meijer store in Defiance.
Double Match Days Will Continue
Meijer began offering Double Match Days in 2012 to highlight our commitment to feeding hungry families in the communities we serve across the Midwest. As a result, an increasing number of generous customers, team members and food pantry partners have joined our efforts.
During the winter campaign, the Double Match Days will be held on Saturday, March 13, 2021, and Saturday, April 3, 2021.
For every $10 Simply Give card purchased on these dates, Meijer will provide an additional contribution of $20, bringing the total to $30 for a single customer purchase.
Purchases up to $5,000 between the two Double Match Days will be matched by Meijer up to a maximum donation of $10,000 per pantry/campaign.
The sole purpose of the Simply Give program is to help our food pantry partners feed the growing number of hungry families in the communities we serve. Meijer is working diligently to be good stewards of these generous contributions by ensuring they are only used to purchase food items to stock your shelves.