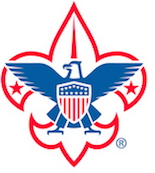 The Boy Scouts meet Monday evenings from 6:30-8:00 p.m. in the gym and Fellowship Room at St. John Lutheran Church. All Boys are welcome!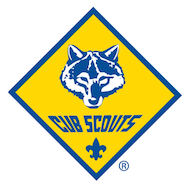 All boys of St. John in grades 1-5 are welcome to join the Cub Scout program. Pack 75 participates in all areas of scouting: character development, citizenship, fitness and our relationship with God in the church award programs. Scouting emphasizes that "doing your best" and improving and growing from your efforts is the goal.
Scouting News
May 2019
Five Cub Scouts from Pack 75 qualified for the Chinquapin District (5 counties) Pinewood Derby, held in April, as a result of the Pack derby in March. All five competed well with Remy Tuohy qualifying for the Council (13 counties) Pinewood Derby at Reineke Ford/Lincoln Dealership in Findlay by placing 3rd in his division at the district.
After a fun-filled Easter Egg Hunt in April, Cub Scouts and family members will be having an overnight camping experience at Camp Lakota in May. Older Cub Scouts have been busy planning the menu which will include some Dutch Oven cooking. All Cub Scouts, along with their parents/guardians, will also enjoy a special campfire program that will focus on rank advancement as well as exploring the 640 acre camp.
The Troop will join scouts from the five-county Chinquapin District in the "Wilderness Survival during a Zombie Apocalypse" at Camp Lakota on May 3-5. Scouts will build a shelter as part of the requirement to earn the Wilderness Survival Merit Badge. Ga-Ga Ball and other activities are also on the agenda. In addition, the Boy Scouts will be joining the Cub Scouts for the May overnight camping experience at Lakota and continue planning for their week-long summer camp at Lakota. The Mammoth Cave trip originally scheduled for March has instead been moved to this summer.
The Pack and Troop would like to thank all those who attended the scout's annual Soup and Sandwich Supper, which is one of the meals served by various church groups on Wednesdays during Lent. Your support is truly appreciated.
The Boy Scout Troop has for many years recycled newspapers as a conservation project. Anyone wishing to recycle newspapers can place them in the garage on the east side of the south parking lot. Money made from their sale is used to help pay for Scouts to attend summer camp.
Youth and adults are always welcome to attend pack and troop events to learn more about the program. Questions at any time can be addressed to Mike Saxton, Chartered Organization Representative, at 419-439-2079.