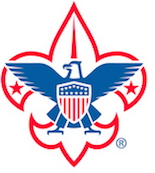 The Boy Scouts meet Monday evenings from 6:30-8:00 p.m. in the gym and Fellowship Room at St. John Lutheran Church. All Boys are welcome!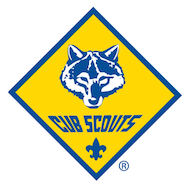 All boys of St. John in grades 1-5 are welcome to join the Cub Scout program. Pack 75 participates in all areas of scouting: character development, citizenship, fitness and our relationship with God in the church award programs. Scouting emphasizes that "doing your best" and improving and growing from your efforts is the goal.
Scouting News
February 2019
Founded in Britain in 1908 by Lord Robert Baden-Powell, the Boy Scouts of America was incorporated on February 8, 1910. Thus, the Cub Pack will be celebrating Scouting's "birthday" in the United States this month with the annual Blue and Gold Banquet. Besides good food and fellowship for Cubs and their families, the boys will be recognized for numerous achievements. The Pack will also be recognized for its Gold status in the Journey to Excellence Assessment for providing the highest quality program awarded by the National Office of the Boy Scouts of America.
Duty to God is one of the pillars of Scouting and, as such, members of both the Pack and Troop will be celebrating Scout Sunday, which corresponds closely to BSA's birthday. Scout Sunday is a celebration of the connection between Scouting and faith-based organizations, with Scouts and leaders participating in their congregation's worship service in uniform. Although all Cub Scouts must complete Duty to God requirements to advance in rank, eight went further and will be receiving the religious award of their faith.
Boy Scouts recently traveled to Mad River Mountain where they enjoyed a day of skiing and snowboarding. The Troop is currently looking forward to its annual Polar Bear, a 24-hour winter camping experience where Scouts spend an evening in an outside shelter and cook at least 3 meals while there. The Troop is also planning activities for the next six months, which includes preparing for a week-long summer camp experience at Camp Lakota.
The Boy Scout Troop has for many years recycled newspapers as a conservation project. Anyone wishing to recycle newspapers can place them in the garage on the east side of the south parking lot. Money made from their sale is used to help pay for Scouts to attend summer camp.
Youth and adults are always welcome to attend pack and troop events to learn more about the program. Questions at any time can be addressed to Mike Saxton, Chartered Organization Representative, at 419-439-2079.