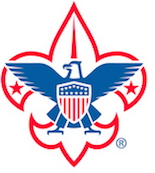 The Boy Scouts meet Monday evenings from 6:30-8:00 p.m. in the gym and Fellowship Room at St. John Lutheran Church. All Boys are welcome!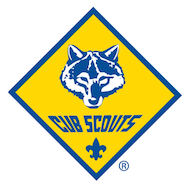 All boys of St. John in grades 1-5 are welcome to join the Cub Scout program. Pack 75 participates in all areas of scouting: character development, citizenship, fitness and our relationship with God in the church award programs. Scouting emphasizes that "doing your best" and improving and growing from your efforts is the goal.
Scouting News
June and July 2018
Scouts from Cub Pack 75 (ages 5-11) and Boy Scout Troop 75 (ages 12-18) continue to look forward to new opportunities and challenges each month.
The end of the school year found Cub Scouts and their parents enjoy an overnight camping experience at Camp Lakota on May 18 and 19. Highlights included a special campfire program that focused on rank advancement, outdoor cooking, a visit to and presentation by Ranger Pat Bohn at the Shook Nature Center, and fishing in Lake Glengary. What a fun and memorable event!
Although there will be no weekly meetings during the summer, the Pack will remain active in June by traveling to Fallen Timbers, site of Anthony Wayne's defeat of the Native Americans, and then on to Fort Meigs to learn of its role in the War of 1812. July will bring the Rain Gutter Regatta, to be held at Diehl Park, where sailboats made by the Cubs will be moved down rain gutters by blowing on the sails through straws. A swimming party with a potluck will be held in August. In addition, there will be numerous opportunities at the District and Council levels for outdoor adventures, including overnight camping options.
The Troop will be attending a week-long Black Swamp Area Council Summer Camp session at Camp Lakota. Working on various merit badges, swimming, canoeing, kayaking and having fun at the water slides on Lake Glengary, climbing the tower, exploring God's creation at the nature center, enjoying evening campfires as well as participating in numerous other fun activities will provide unforgettable encounters.
Both the Pack and Troop provided flag-bearers for the St. John Church services on Memorial Day weekend. In addition, both units participated in the Defiance Community Memorial Day Ceremony to honor those who sacrificed so much for our nation.
The Boy Scout Troop has for many years recycled newspapers as a conservation project. Anyone wishing to recycle newspapers can place them in the garage on the east side of the south parking lot. Money made from their sale is used to help pay for Scouts to attend summer camp.
Youth and adults are always welcome to attend pack and troop events to learn more about the program. Questions at any time can be addressed to Mike Saxton, Chartered Organization Representative, at 419-439-2079.